Sex Therapy & Sex Coaching
Intimacy and Relationship Help 


for Couples and Individuals



Client Success Stories

Sex Therapy Testimonials 
Here are a few sex therapy testimonials and success stories shared with permission by previous clients:
space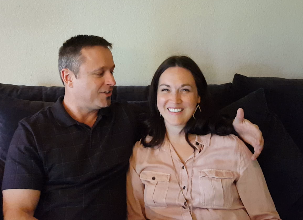 Photo of Erik and Michelle Harvey. Michelle is a graduate of one of Susan's programs.
A Deeper Connection with Spouse
"With what my wife learned from working with Susan has helped us learn as a couple how to really be present with one another in ways that we weren't before. 

We have learned how to just grow in those moments together and be one in a way that we've only ever heard about before and  in ways that we never really could have even imagined.  This experience has been truly life changing for us." 
-Erik and Michelle Harvey, Denver CO.
Confidence is Mine
"When I signed up for this course, I thought I was just going to learn about sex, but I've been surprised that I ended up learning so much more about myself than I ever expected! 
It's helped me confront those uncomfortable parts of myself instead of  just sweeping them under the rug or trying to ignore them. I've been able to take a step back and to examine the places in my life where I've been unsure of myself.
It's changed how I carry myself and the decisions I make. I have better discernment over who I allow into my life and why. I've become more confident in all areas of my life." 
 -Bailey D.
A Husband is Amazed
"When my wife began studying with Susan my initial reaction was "hey, that's great – Susan seems really grounded." As they began sessions together, however, what I saw emerge and take shape in my wife was a steadily growing sense of self and self-confidence.
But what was as equally striking as witnessing the changes in my wife, was noticing the changes that occurred in me as a result.
The work that my wife was doing with Susan created a space for me to see my wife in a new way, and in a way that increased my own capacity to see her and to love her for who she really was. I unconditionally recommend Susan."
 -Dave Evans
No More Guilt and Shame
"I now have a framework to think about how my husband and I were interacting intimately in the past. Now I can see why it wasn't working for u!  After working with Susan, I now  know how to move forward.

"I've also been able to feel things in my body that I never thought was possible. There's a lot more sensation and feelings "down there" than I ever have experienced before.
I wasn't expecting that. I know and understand a lot more about my sexual drivers, what gets me aroused and what are blockers, where my wall is in the marriage, and I no longer have guilt and shame associated with my sexual self. The last one in particular is very liberating." 
 -Anonymous
Praise for Wake Up, Woman! Program
"I highly recommend Susan's course! It will challenge you to think differently about your relationship with your partner.  It will blow the doors open to increased understanding of your sexual self. I am a different person after this course."
-Tanya A

Request Your Copy of The Pleasure Keys ebook
Enhance pleasure, expand your orgasmic potential, and experience intimate fulfillment. Request your copy of The Pleasure Keys: Discover the 7 Secrets to Female Sexual Pleasure. (a $47 value).