Sex Therapy & Sex Coaching
Intimacy and Relationship Help 


for Couples and Individuals



The Sacred Circle
A Weekly Women's Healing Group in Austin, TX 
Next Group Begins
Tuesday January 21st 2020
Now Accepting Applications for New Participants. 
Have you ever had that feeling of just wishing that you could press the "pause button" on life and make everything stop even for just a few moments?

Chances are if you are in a human body you have at some time or another felt overwhelmed by life. So many things can hit us all at once that we feel overwhelmed, unable to get our bearings, or blinded to the bigger picture or purpose of our experiences.
We need a sacred space to return to. A place where we can go outside of time, press the pause button, and regain perspective, insight and healing.
The Sacred Circle is a weekly meeting for women designed to be exactly this place. A "womb" that we may return to even briefly to return to the deeper meaning of who we are and why we are really here, and what our experiences teach us when we drop deeper beyond the "story" and the drama of our lives.
About The Sacred Circle
The Sacred Circle is a women's spirituality and personal healing group in Austin, TX open to women of all walks of life and of all ages.
This group is ideal for women who are experiencing life transition, internal or external changes to life circumstances or health, who are feeling overwhelmed by life— stressed out, frustrated or anxious.
It is also ideal for women who simply desire to feel more connected and in community with other women as they walk their spiritual paths while also receiving guidance and insight from the wisdom of others.
Why a Women's Group?
Our culture rarely honors the need for a safe and sacred space for us to be witnessed and held as we go through the ups and downs of life.  Too often we are expected to just "get over it" or to reach for the next latest pill or therapy that is supposed to solve all of our problems in an instant. 

We stuff it down, gloss it over with a smile or sarcasm, or suffer silently, bearing our pain alone and in secrecy.
But we know all too well this does us no good.  It causes stress, depression, pain and isolation.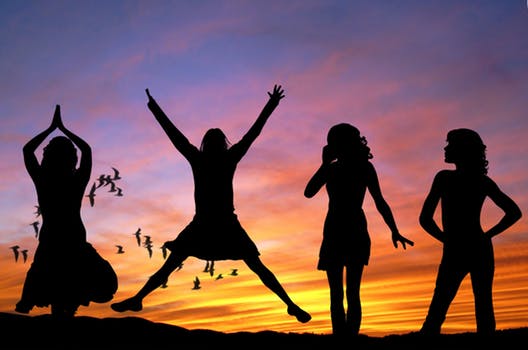 Women, it is time to do something different!
This is an invitation to return to your feminine roots by entering into community, and coming together as women to help and heal one another.
When we as women come together and allow ourselves to become truly authentic, real and vulnerable both within ourselves and within a group of other women, real healing can occur.
The Sacred Circle is a place where women are invited to embark on a personal healing journey that includes spiritual inquiry, meditation and prayer, guided embodiment practices, and an exploration of what it means to live fully and love deeply.
In this group setting you will never be expected to tell your story unless you want to. 
The group is focused on helping you to bring greater awareness, insight and healing to your own internal process around whatever it is you are struggling with by helping you to connect more deeply to your feelings, emotions, your body, and your source of spiritual strength whatever that may be (or not be) for you.
The group is open to any woman who is committed to her personal growth and spiritual development.  It honors your individual connection to the spiritual and sacred as you define that to be--it is not religious.  The group is open to you no matter what your personal spiritual or religious beliefs may be.
Group Structure and What to Expect
The Sacred Circle Women's Group meets for 80 minutes once per week.
While every meeting will be slightly different below is an outline of a general structure that I often like to use when leading groups. 
(Please note that this is just an example.  I prefer to allow room for fluidity and spontaneity in order to more accurately respond to the needs of the group in the moment).  
(20-25 mins) The group will begin with a somatic (body centered)  activity.  Some things we do may include facilitated movement, guided breathwork, a yoga posture, or other embodiment meditation.
(45*50 mins) Then the floor will be open sharing and discussion. I facilitate the discussion by inviting participants to give voice to any sensations happening in their bodies while they are talking as well as invite them to give space to any emotional content arising during the discussion.
(5-10 mins) The group will end with a few minutes of integration practices which may include things like journaling, a group activity, or grounding embodiment practice. 
The Sacred Circle Women's Group Details
The Sacred Circle is a closed 12 week women's group which means once the group begins, no new members are invited in. 
The group is offered 2-3 times per year. 
Each group is kept at a size between 6- 8 participants at a time.
When: Next group begins Tuesday January 21st 2020 and ends Tuesday April 7th (12 meetings total)
Time: Tuesdays from 11:30am-1pm

Location:  The Pathway to Pleasure Collective 3355 Bee Caves Rd. Suite 101 Austin, TX 78746
Investment:  Three payments of $195* or one single payment of $575  
How to Participate: To see if The Sacred Circle is a good fit for you and find out if and when space is available in the group,  please fill out an application below.  You may also apply by phone by calling 512-766-7072. 
Please note: Filling out an application does not obligate you to enroll in the group nor does it guarantee you a space in the group. 
What happens after I submit the application?: Once we receive your application we will contact you for a brief phone intake session which usually lasts about 20-30 minutes. After the phone call we will either:
Extend an offer to you to join the group

 Invite you to join the wait list if the group is currently full. OR

 Refer  you to another resource if it is determined that this group is not a good fit for you at this time. 



Request Your Copy of The Pleasure Keys ebook
Enhance pleasure, expand your orgasmic potential, and experience intimate fulfillment. Request your copy of The Pleasure Keys: Discover the 7 Secrets to Female Sexual Pleasure. (a $47 value).