Susan Morgan Taylor, M.A.


Empowering Committed Couples to Restore Intimacy and Deepen Connection so that they can Get on the Same Page, Ditch the Self -Sacrifice and Get Back to Love.

What Are  You Doing on
Tuesday Evenings?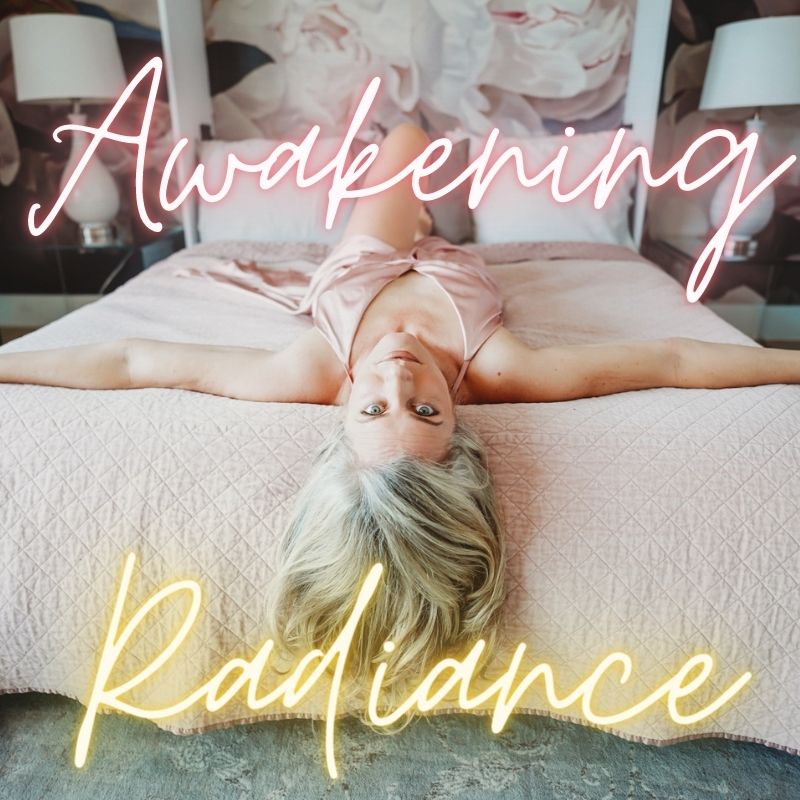 Awakening Radiance Six Week Online Women's Program Begins May 23rd!
What are your plans for Tuesday evenings starting May 23rd?
Would you like to join me for a very soulful and sensual six-week journey into activating your feminine radiance?
Feminine radiance? What's that you ask?
Most women intuitively know what this is:
It's our light.
It's our special sparkle, our shine.
It's the part of us that creates magic and manifestation out of our own pure magnetic presence and simple being-ness.
Your feminine radiance is your special SPARKLE made manifest through movement, expression, sensation, and pleasure as it moves through your very own body.
Sadly, this love-light essence has been dimmed for so many women. We've shut it down for fear of shining "too bright" or attracting the "wrong" kind of attention.
Or perhaps we just never really felt like we had access to this part of ourselves and have always felt a little left out or like we're missing out, while all the other women seem to have it figured out.
Whatever the cause, we've paid a big price for this dimming of our feminine light.
We end up feeling disconnected, anxious, stagnant, confused, and depressed.
We lose attraction to our partner, begin to feel like roommates more than lovers, and secretly wonder if this is all there is.
We lose our lust for life, things start to feel mundane, ordinary, or boring.
We feel (and often are) overlooked, unnoticed, and constantly invalidated because we've stopped taking up space out of so-called kindness, laziness, the pursuit for equality, or in the name of appearing "equitable".
I don't know about you, but I'm not ok with this.
As a sex therapist since 2015 and intuitive coach since 2008, and after working with hundreds of women and couples over the years, I have seen the devastating impacts a diluted feminine radiance can have not only on a woman, but also on her partner, her children, and in fact the world at large!
Part of my mission since my own sexual awakening in 2011 (which you can read about  here) has been to help women re-connect with and excavate their own feminine radiance and access to the wellspring of pleasure and love that resides within their very own bodies. This, in fact, was the inspiration for the name of my business --Pathway to Pleasure!
Announcing The Awakening Radiance 6 Week Online Women's Program! (We begin in TWO WEEKS!!!!)
As a solution to this all too common problem, and as a way to support my community with sacred feminine practices that have literally worked magic for me personally over the years, I am proud to bring you the Awakening Radiance 6 Week Online Program for Women.
This program begins on Tuesday May 23rd from 7-8pm and runs through Tuesday June 27th.
​Program details and enrollment link are on the website here.
Aside from the incredible content and sacred feminine practices I'll be sharing with you so that you can re-ignite your radiant feminine energy, what's also unique about this program is this:
Evening Classes: I rarely teach in the evenings! But, I wanted to offer something to my community during a time where I felt more people would be available to attend the live class without having to miss work or struggle to arrange childcare. Take advantage of this evening class—I don't do it often!
Taught Live: I am teaching this online course LIVE. This will likely be the ONLY time I teach this course live. After this launch the course will only be offered as a self-paced online course.
Special Launch Tuition: To celebrate the FIRST launch of this course as an online offering as well as to offer members of my community a way to work with me at a price almost anyone can afford, I'm offering a special launch tuition of only $297 when you register by this Friday May 12th.
Regular tuition for a live course like this is usually $1295. The value of this course is priceless.
​Click here to read all the details about Awakening Radiance and to enroll now.
The program begins in just two weeks on Tuesday May 23rd.
Registration is open.
Special launch tuition of $297 is valid through this Friday May 12th.
​Learn more and register here.
​XO
Susan
Susan Morgan Taylor, MA
Renegade Soul Guide. Mystic Priestess Healer. Rebel Therapist Freak.
www.pathwaytopleasure.com
www.susanmorgantaylor.com
P.S. Awakening Radiance 6 Week Online Women's Program begins Tuesday May 23rd from 7pm-8pm and runs for six Tuesdays through June 27th 2023. This may be the ONLY time I teach this program LIVE. Special launch tuition of only $297 is valid when you enroll by this Friday May 12th. More details and register here. ​
​
Your second block of text...
Request Your Copy of The Pleasure Keys eBook

Discover The 3 Keys to Enhance Pleasure, Expand Orgasmic Potential, and Experience Intimate Fulfillment
(a $47 value).